The WordPress Recipe Card Creator Plugin makes it easy to provide printable recipe cads to your readers with minimal additional work on your part.
Creating a New Post
When you are writing a new post, you will notice several additional fields you can fill in. (Click to enlarge)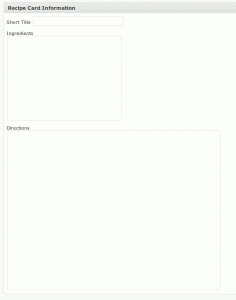 These provide the text that will appear on the recipe card. You will have to copy and paste from the main post, since there is no automatic way to identify what should go in each field.
Next is a new option in the right sidebar to set a thumbnail image for the post.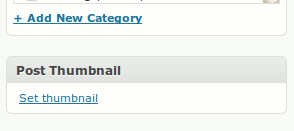 This will bring up the normal image selection box. (See here for how to add an image in WordPress.) One change is that at the bottom of the window, where you would normally select "Insert into post" you will select "Use as thumbnail".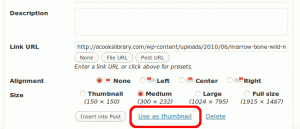 NOTE: This is a new feature as of WordPress 2.9. The thumbnail image will also appear (in some themes) in archive and search listings, or in RSS feeds.
A "Recipe Card" link will appear at the bottom of the post.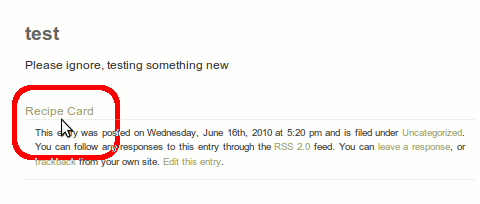 This will link to the PDF of the recipe card.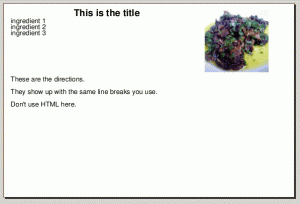 How To Configure Recipe Card Creator
Recipe Card Creator adds a menu option under the "Settings" menu.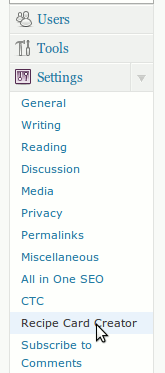 This brings up the RCC Settings screen. (Click to enlarge)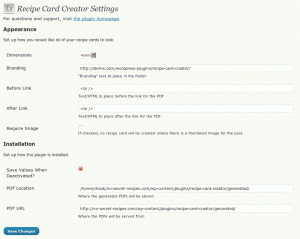 Appearance Settings
You can select the format of the cards from a few standard sizes.
"Branding" is the footer text that will appear at the bottom-right of each card.
The "Before Link" and "After Link" settings contain the HTML that is added around the "Recipe Card" link at the bottom of your post.
"Require Image" determines whether a recipe card will be created if there is no thumbnail image attached to the post.
In the current version, the branding will always be italics, and aligned right. (Click to enlarge)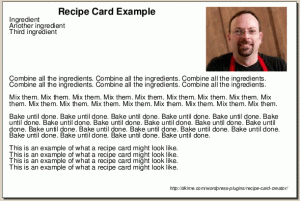 This will be configurable in a future update.
Installation Settings
These settings are pre-populated based on how your WordPress installation is set up. You normally wouldn't change them unless you manually change the directory that plugins are installed to.
If you do change these settings and break things, you can un-check the "Save Values When Deactivated" box. Then deactivate and reactivate the plugin, and the default settings will be restored.
Changes on the roadmap
Make the "Recipe Card" text a configurable option
Add more "format" options